Embroidered Patch to Digital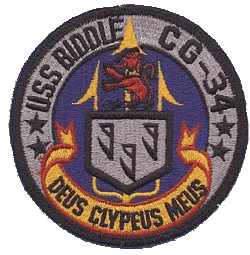 An embroidered patch from the decommissioned U.S. Naval Cruiser the USS Biddle was scanned into the computer and the background digitally removed by creating a mask to protect the image itself, then deleting the unnecessary background detail.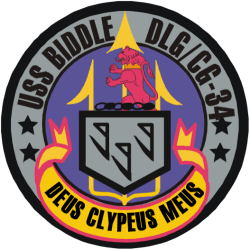 The original image was digitally traced using CorelTrace, creating a rough line drawing of the patch design. Next, the lines were manually modified to more closely align with the original patch and to clean up any remaining rough edges. Fonts were selected to approximate the embroidered fonts, and the text was changed to reflect the two different designations under which the Biddle sailed.
The digitized image has been used on the ship's website, letterhead, and several items for sale in the ship's store.